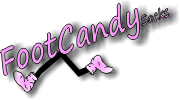 To view our FootCandy Socks link.
Who is FootCandy Socks?
We are a small sock manufacturing mill in Okotoks, a town just outside of Calgary, Alberta Canada, that manufactures high quality thermal socks and leggings. All production is done on the Footcandy site right here in Canada. We do not outsource any of our operations to other countries.
FootCandy Socks and the environment:
We will not sacrifice the environment for increased production or profits. All of our socks are made from all natural and renewable materials. Many of the production techniques are still done by hand to ensure the highest of quality in the socks, and to minimize our effect on the environment. Production expansion is accomplished by adding people not equipment. All of the fibres we use are either kept all natural without any harmful dyes, or coloured fibres are coloured using low impact dyes. No harmful chemicals are ever used and we even use a 100% all natural soap for the final finishing.
What is special about FootCandy socks?
Not all wool is created equal. It's true that some wool socks are itchy; however wool does not have to be itchy. We only use the finest and softest Merino wool. With our Merino wool socks, you will never know you are even wearing wool. We then blend our Merino wool with SeaCell®, an all natural product to add therapeutic properties to the Footcandy brand sock.
Why we blend SeaCell® with our Merino wool socks?

Seaweed has been proven to protect the skin and have anti-inflammatory properties.
The structure of SeaCell® contains numerous benefits for human skin. It facilitates the active exchange of substances between the skin and fabric. SeaCell® releases nutrients such as calcium, magnesium, iron, carbohydrates, fats and vitamin-e.
SeaCell® helps promote activity and create a complete sense of well-being.
The porous, open structure of the SeaCell® textile fibers promote humidity intake and release, and a healthful interaction between the fiber and the skin. The garment absorbs what your skin expels, while your skin absorbs the healthful elements carried in the fibers. Its textile properties also offer advantages such as breathability and softness.
The seaweed has been permanently incorporated into the fiber, locking the effects of the marine substances into the fiber, even after repeated washings
The seaweed extract also promotes the production of glucosaminoglycans, which not only accelerate the healing process of skin inflammations, and protects the skin from free radicals.